At Affiliate Capital, we reward our affiliate partners based on their performance. They earn between 20% and 35% of the net revenue generated from their player referrals, every month, for the lifetime of that player.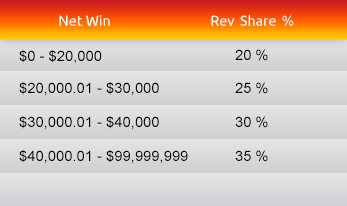 *Net Win =Gross Net Win (house net win from all game play – includes cash and bonus play) minus Net Non-Cash Credits (all non-cash deposits made into a players account – excludes coupons & chargebacks) minus Coupons (all coupons (bonuses awarded to players) minus MultiCash Adjustments (casino's contributions to the Network Progressive games) minus Chargebacks (deposits charged back by players) equals Adjusted Net Win (aka Net Revenue or Net Profit – base for Net Revenue program calculations).
No Negative Carry Over Policy
If an affiliate ends up with a negative balance at Affiliate Capital, that balance won´t be carried over to the following month. Affiliates will always start the month with a 'zero' balance.
Referral Program
In addition to commissions earned from player referrals, affiliates have the opportunity to earn from affiliate referrals too. Affiliate Capital rewards the master affiliate with 2% of the net revenue of the referred affiliates.